Fishing Expeditions For Indian Guest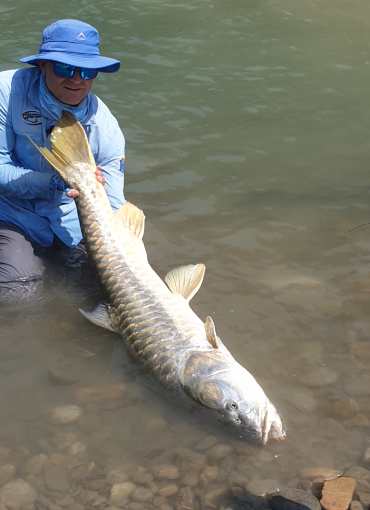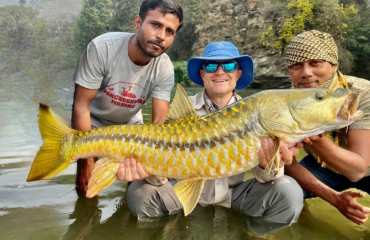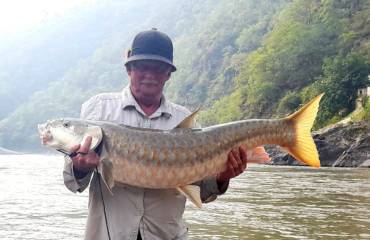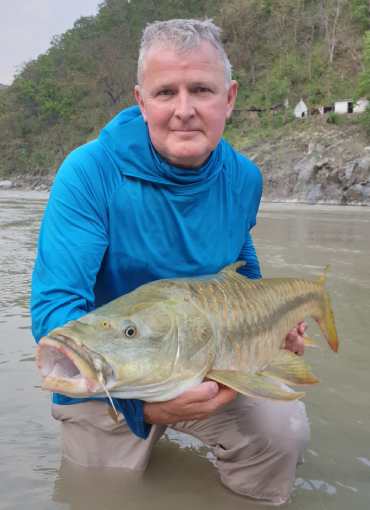 What are the Activities at the Camp
Angling or fishing take lessons in the angling sport.
White water rafting , 5 kms or longer
Breakfast at the river confluence
Birdwatching
Mild walking trails
Private beach
Indoor / board games
Cross the Nepal border
Beach volleyball
Badminton
Target boards
–
Visit JUDAH pool
Drive to Mayawati ashram
Baleshwar ancient temple complex
Village walks
Pancheshwar ancient temple across the bridge
Ancient fort Visit
Yoga by the river
Barbeque
Bonfire
River crossing
Frequently asked questions
How big is the tent ?
It has a living area of 12′ x 10′ En suite,
Washroom , area of 12′ × 6′
Sit out area of 12'x 5′
About 300 sq feet of usable area per tent
What s a good time to visit ? Can I visit your camp , even if I do not know angling / fishing ?
Yes of course, September onwards to March is good , we will be happy to share our fishing knowledge, or you can just chill at the marvelous location, and involve in other activities.
April May and June are warmer months , but good for fishing.
July , August and September we are closed for monsoon rains.
Can I carry food from outside ?
No, outside food, beverages, eatables are not allowed in the camps.
What are the check in and check out timings ?
Check in 13 00 hrs
Check out 10 00 hrs
Is the property senior citizen friendly ?
the road leading to the property is a about 100 meters uphill, apart from this there s no climb or ascend as such . We will advise senior citizens to be under supervision, all the time .
Can I learn fishing ?
Yes with a fishing guide from our team and if the season permits. You can also take a fishing lesson. We will also need to obtain fishing permits. Only then we can fish.
What about the fishing equipment? Do I have to buy a new one for learning ?
You can use our in house fishing equipment for a nominal price and you can also buy from our souvenir shop.
What are the cancellation policies ?
48 hrs and less: no refund
72 hrs or less: 50 % refund or shift of date voucher.
More than 72 hours: entire refund or shift of date voucher.
Is there a la carte option availabile ?
A la carte option is also available . But do note on limited menu and as per availability of provisions.
Who should visit ?
Guest looking at an off beat, remote , grass root level experience, with only 4 units on offer, across a river confluence location , and indulge in nature activities.
Can I get a bonfire ?
Yes , with prior notice .
Is it an all Vegetarian affair ? Do you serve jain food ?
We do serve non veg in one meal of the day. We cannot be specific to any cuisine as its a remote location . And we are also a camp , keeping in mind some comfort features.
How do I book ?
Booking can be done on our website, with 100 % of booking amount .
Are pets allowed ?
Yes , we are pet friendly. ( minimum 2 units to book.).
What networks are available at the camp ?
AirTel, idea – Vodafone work with limited accessibility. Jio is almost absent.
How do I arrive from Mumbai or Bangalore?
there are direct flights now from MUMBAI to BAREILLY ( U P ) and BENGALURU to BAREILLY. we can give you an airport pick up and get you to our camp. It's 6 to 7 hour drive from BAREILLY to Pancheshwar. ( 250 kms )
Tariff
Starting at 8499 ( double occupancy)
per night on twin sharing , all meals and taxes included.
Starting at 6999 ( single occupancy)
Per night , all meals and taxes included.
Extra bed : 2999 ( all meals)
Child age : 4 to 11 years , above 12 years is considered as a full pax .
How do the camps look ?
Its a property situated on the river bank, tents styled in swiss camp feel, with en suite washrooms, and a sit out area.
Total Area of the camp: 10000 sq feet.
Total number of units: 4 ( en suite washrooms)
3 classic tents
Whats the cuisine on offer ?
We have a gazebo for dining activities, no main meals are allowed inside the tents. We have indian, kumaoni, continental, oriental ( all in limited menu and as per available fresh local produce).
What are the meal timings ?
We follow
Breakfast at 8 00 hrs
Lunch at 13 00 hrs
High tea at 17 00 hrs
Dinner at 20 00 hrs.
Is the property children friendly ?
The property is part of a forest reserve and is also on the river banks with boulders. We advice all children to be under parental guidance all the time .
Can I swim ?
Yes only with a life jacket and a river guide under our supervision. The river currents are fast and turbulent.
In case I catch a fish , can I eat it for meals ?
No , we practice only catch and release sport, also the mahseer is an endangered species, protected under schedule 1 of wild life act , 1972 .
Do you have a generator?
We use an inverter.
Do we require to give advance notice for fishing , water rafting activities , and birding ?
Yes ideally 48 hours.
Is the alcoholic beverages available ?
Alcoholic beverages are available in limited choices. We support the local economy , and source it from the local market and local wine shops .
Can I get a barbeque ?
Yes if you book a day prior
How far is Pancheshwar ?
From New Delhi, its about a sunrise to sunset drive. ( 458 Kms ) , about 10 to 12 hours . Drive via ghaziabad gajraula rampur rudrapur tanakpur lohaghat Pancheshwar.
Can we play loud music ?
Please try keeping the peace of the camp and we prefer if you use your headphones, the sounds in speaker should close by 21 00 hrs.
Can I come there , just for a day ?
you can book the property for a minimum of 2 days/ 2 nights only.
Do you have a free wifi ?
Yes but limited speeds . Works well on upload download of small duration videos and other social media apps. Not suitable to watch you tube or live events.
Do you accept cards , upi ?
We can accept UPI over a merchant scan code . Cards don't work , as internet is Intermittent.
Few Camp Etiquette
As the property lies in a check in forest area , we do not solicit post at 21 00 hrs and before 8 00 hrs . As many roads leading to the property may have reserve forest barriers to cross .
Please carry the minimum of valuables , as the tents do not have a lock-in key.Fishing is allowed only in the presence of a fishing guide or a fishing girl under camp supervision . Fishing also requires fishing permits, which we should be happy to get for you .
The camp is based on eco concepts, so we do not have a generator , and power cuts are frequent . Please do note outside food , alcohol, eatables , and beverages are not allowed on the camp premises .
Also, there are army and SSB posts prior to the property. They may ask for a normal check-up of your vehicle and details. Please co-operate with them as it's an international border routine. So do avoid keeping any alcohol in your car .
We support the local economy, so we source the alcohol at a nominal increment , from the local wine shops , of course, with limited choice , and an advance notice will be appreciated.
All the furniture at the property is made by local artisans and all the camp has been built using local services in and around Pancheshwar.
All staff are from Uttarakhand state only. If you like their services, we would request you to tip the staff generously , as they get limited opportunities in remote areas, and the entire business at Pancheshwar is nature-bound and limited to only 6 months of the year. This helps the youth economy not to move out of the state looking for employment.
The camp remains closed in the monsoon , so the entire structure is dismantled and re-built as the monsoon retreats. The dates of camp closure due to the monsoon are from July 1 to September 20 . The camp opens for guests on October 1 . It remains closed for about 90 days.
Do note the nearest market is 38 kms from the camp, so almost all our supplies come from a distance . A physician is available within 3 kms of the property .Pancheshwar is a small village town with only 100 families .
Music needs to be played only with your personal headphones.
The property is on an international border , so please do not carry any satellite phones or drones for photography.
Only cell phone photography is allowed.
Housekeeping ( linen is changed every 3 days )
Laundry service is limited.
Ensuite wash rooms , with hand shower and regular temperature water.
Warm water will be provided in buckets as per request.
Wifi is available in a limited area.
Fishing is a only and strictly CATCH AND RELEASE sport .
The Himalayan Golden Mahseer is an endangered species currently falling into Schedule 1 of wildlife in 1972 .
Starting at 8499 ( double occupancy) per night on twin sharing , all meals and taxes included.
Starting at 6999 ( single occupancy) Per night , all meals and taxes included.
Extra bed : 2999 ( all meals)
Child age : 4 to 11 years , above 12 years is considered as a full pax .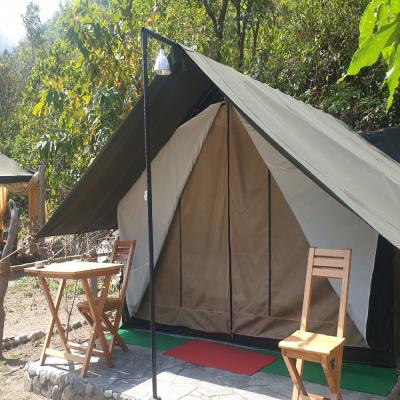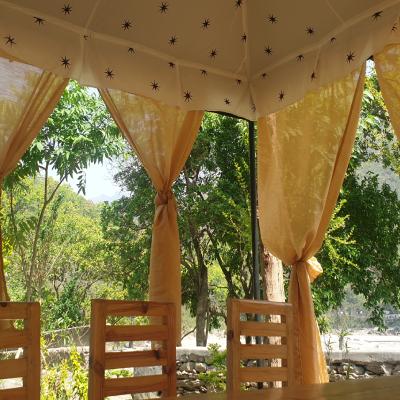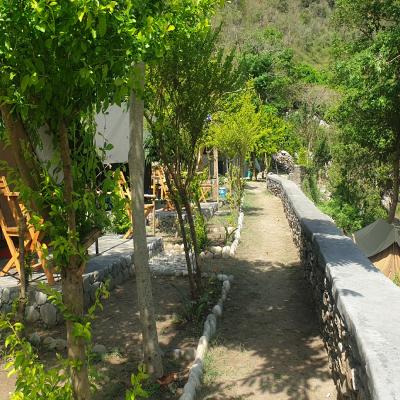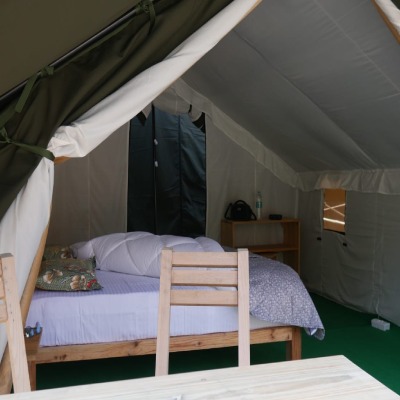 In case you wish to book offline , you may just whatsapp us , and we can help you out with the payment process via direct links.