About us
Based in India, we have enjoyed over 2 decades' worth of angling ecstasies in the Himalayan rivers. Our clientele includes local as well as international anglers, we have a complete handle on personalized itineraries, simply because of the varied expeditions ranging from an individual angler to groups.​
We have managed various trips across Himalayan rivers, including international filming and video crews, and achieved targeting big game fish and our entire team deserves credit for the same.We believe in providing experiences at the grass-root level of this remote landscape , thus making it a once in a lifetime experience.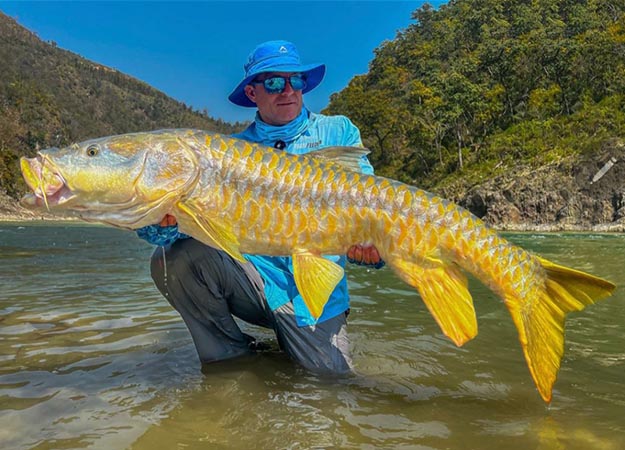 Pancheshwar Fishing, is a fishing outfitters company , conducting fishing trips for himalayan Golden Mahseer and Giant Devil Catfish across Himalayan rivers like Kali , Saryu , Ramganga and the Ganga .
They are based with a permanent camp comprising of 4 comfort tents ( en suite washrooms ) and 3 classic tents . This camp is at the confluence of rivers Kali and Saryu . This said confluence is the haven for Golden Mahseer in the last few years, often catch size of 60 pounds or more .
Located at the confluence of two himalayan rivers, Kali and Saryu. A comfortable camp directly overlooking the river from your bed. A place so remote, that the inhabitants have just a population of 100 or so.
Pancheshwar means union of five rivers, Kali meeting Gori at Jauljibi, Dhauli at Tawaghat, Chameliya at JHULAGHAT, and finally Saryu at Pancheswar. It's a spiritual place in a way, observing the confluence, and as many different colors of the flowing water and different current speeds in changing seasons.
We also conduct training programs for any new enthusiasts or corporate executives, to take up the sport of Angling/ Fishing . We provide the new participants all the basic fishing equipment, so that they get a hang of the sport, in general. Also, guests who wish to just enjoy the river front, be in nature, and have their own time , should visit .
We have white water rafting activities, for various distances ranging from 5 kms to 20 kms .We also conduct white water rafting trips from 3 to 7 days duration in the rivers Kali and Saryu .Pancheshwar is a rich forest area comprising many birds , and wildlife often encountered while driving here .
International Anglers Serviced
Filming And Video Productions